https://www.reuters.com/article/us-lg-elec-smartphones-idUSKBN2BS1M3
There was a big announcement in technology this week, with South Korea's LG announcing they will shut down their smartphone business effective July, 2021, and shift their investment and focus toward smart home products, electric vehicle components, robotics, artificial intelligence, business-to-business products and other connected devices. So, what happened?
A Quick History of the Smartphone Shift
In the 90's, growing mobile phone sales created a global battle ground among suppliers. In Europe, Nokia & Ericsson were the dominant mobile phone suppliers, while in the U.S., Motorola was the dominant player. In South Korea, where technology was moving at light speed, Samsung & LG were the two biggest names in mobile.
As the new century began, mobile phones were quickly evolving into smartphones, and the rise of brands like Blackberry, Palm, and even Windows-based phones from Microsoft created a crowded, yet innovative, category.
Oh, and there was one other entrant into this smartphone arena: Apple.
Between 2000 – 2010 is where the mobile phone market made its dramatic shift. Dominant players like Nokia, who was once responsible for over 40% of all global mobile phone sales in the 90's, lost enormous share quickly. Apple's entrance into the market directly impacted smartphone makers Palm & Blackberry, and Google entered the market by offering the Android operating system for free to suppliers. Below is a five-year snapshot from Gartner research showing the incredible shift in this market. Where was LG? Caught in the red ocean: the group of "others."
Caught in the Middle
In 2007, LG was the #5 brand in global mobile phone sales behind Nokia, Motorola, Samsung and Ericsson. In this same year, Apple introduced the iPhone, and since that event, LG fought a losing battle.
During this period, the South Korean market was famous for their speed of replacement. South Korean consumers were replacing their phones every 3 – 6 months, and LG and Samsung were the primary beneficiaries of those next generation sales. But as mobile phones became more expensive (due to higher costs and lower carrier subsidies) end users held on to their phones longer, the rate of replacement slowed and unit sales flatlined.
While LG retained loyalty and brought innovative products, sometimes even quirky phone designs, to market in their home country of South Korea, LG was relegated to the "middle market" in the rest of the world. LG never developed the brand strength, loyalty and ecosystem penetration of Apple, and could never create manufacturing and efficiency scale to compete with Samsung or Xiaomi (China).
As the market slowed due to the flattening of the penetration curve, the industry consolidated, with Sony buying Ericsson's phone business, Microsoft and Nokia eventually creating a partnership, and most any other phone manufacturer not named Apple choosing the Android operating system.
Apple and Samsung generate 83% of the industry profit (as of 2019), while LG was left caught in the middle, unable to differentiate itself, lacking depth of end user and/or operator loyalty, not being seen as a high value option, losing money and share. For the year ending 2019, despite growing sales in a range of other products, and improving corporate profitability, there was one clear drag on LG's earnings: the mobile phone segment. According to gizmochina.com: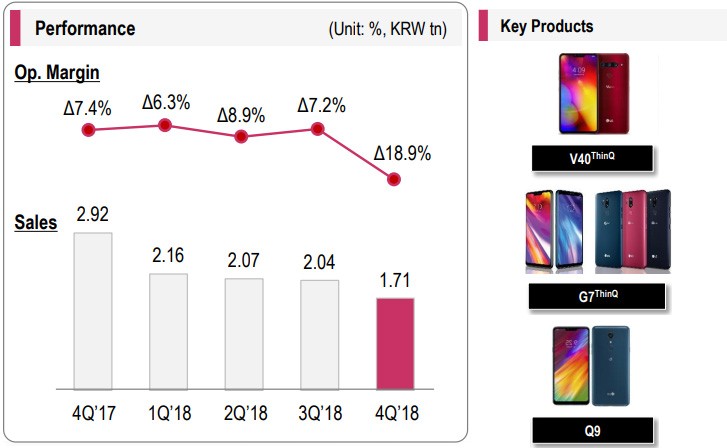 Even the launch of new forms, such as flip screen, foldable technology and even a tease of a rollable phone could not turn the tide of decline. The mobile phone business was a losing proposition, and LG had to make the tough decision that many other suppliers before had made. It was time to exit.
Implications & Learning
Three things we can learn from what happened:
Define and develop what makes you meaningfully unique. While LG had technical capability, and showed on occasion that could bring unique products to life, they never established their core brand essence and point of difference. They lacked the manufacturing prowess of Samsung; never garnered the fervent loyalty of Blackberry; leveraged someone else's operating system (Android) and could not even sniff the ecosystem juggernaut that is Apple. LG ended up being relegated to a decent phone supplier at an affordable price, hardly a compelling positioning.
Focus on the 80. In any category, much less a fast-moving one like mobile technology, LG lacked a vision of how mobile devices could transform people's lives and communication. They proved, with '80' focus, they could succeed in TV's, appliances and other electronics, developing an expertise and more premium position in those areas through relentless commitment. But mobile phones were a lower priority, the '20', and it showed in their lack of pricing power, loyalty and meaningful differentiation.
Innovation is more than just a gimmick. LG gained a reputation of being "first" when it came to mobile innovation largely through gimmick ideas. They would launch limited edition, or untested, designs, some working well, others a dismal failure. While they were busy developing a design gimmick, other suppliers were busy creating an innovation pipeline and system that viewed mobility through integration and connection. Innovation has to be done in a system approach, assessing opportunity, capitalizing on ideas and technology, and understanding how to encourage creativity while having a process in place to fail fast (& cheap!) so the best ideas can be pursued and resourced.
Going forward, Samsung and Apple are the two dominant mobile phone suppliers, with due respect to Xiaomi and Huawei, who are giants in China and other parts of Asia. As mobile phones appear and operate more similarly (camera quality, storage space, screen sizes, processor speed, etc), the operating system and other unique features take on a higher level of differentiation. So, how will the current leaders drive the next wave of innovation? Or will a start-up find a new way to disrupt this industry the way Apple did in 2007 (or Tesla has done in vehicle mobility)?
One thing is for certain. The company that can best understand how end user needs are changing, create and expand their meaningful uniqueness, focus on the '80' with relentless discipline, invest in building business and brand synergy, and drive a successful innovation pipeline, will win.